Need Help? : 754-204-7570
About The Founder & the store!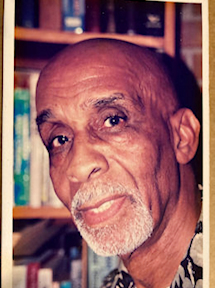 ANTHONY HORATIO HARRISON: FEBRUARY 13,1933 TO FEBRUARY 20,2017
In 1992 the first African Bookstore in Broward County, Florida, was founded by Anthony Horatio Harrison, known as Ujamaa Bookstore, where he sold specialty books out of his vehicle. In 1994 Mr. Harrison extended his store to include specialty books and gifts. The store was originally located at 3600 W. Broward Blvd., Fort. Lauderdale, Florida; eventually the store changed it's name to African Bookstore.
In 2002, ten years later the store added the first African Bookstore website in Broward County Florida, www.africanbookstore.net, designed by our genius Webmaster, Marlene D'Souza. Unfortunately, we had to close the physical store in 2012, but the online store still remains in-tack and we are now celebrating 31 YEARS of business! Today, 31 years later, we are still an online specialty bookstore and gift shop, located in Plantation, Florida. Our goal is the pursuit of education, empowerment, and self-awareness of our community. We are pleased to provide books online about the African world wide experience and the African American experience. We feature your favorite African American authors, and much more. Anthony Horatio Harrison was born on February 13, 1933 in Kingston, Jamaica. At a young age of 22 years, he moved to the United Kingdom and was educated as a Precision Machinist. There he married Avis Stern, and had 2 daughters, Yvonne and Loraine. In the early 1990's, after working several years as a Precision Machinist in the United Kingdom and in the United States, Mr. Harrison set out to pursue his belief that his children, along with his community should always and constantly engage themselves with constructive information. Through this firm conviction, Mr. Harrison started to sell books. He sold books from his vehicle in 1992 through 1994, until he opened the first African Bookstore in Broward County, Florida. The store flourished with much success and support, while Mr. Harrison encouraged economic stability, self-reflection, independence, and empowerment in the community, which he loved so much.
The African Bookstore is now under the new leadership by Mr. Harrison's daughter, Yvonne Harrison-King, and her daughters Jasmine King and Ayana King who are also the granddaughters of Mr. Harrison. They have taken on a more advanced approach in this new millennium by enlarging the African Bookstore's website with new book selections and gifts. African Bookstore continues to inspire others to read, and is a firm believer in the educational process of self-knowledge and enrichment.